If you've been holding off on investing until after the election, I certainly can't blame you...
After all, it was just weeks ago that Macroeconomic Advisers made headlines when they warned potential election results could trigger a $2.1 trillion stock market meltdown!
However, if you have just one minute, I want you to see two incredible charts that completely flipped how I was thinking about this election.
And if you're an investor who's been standing on the sidelines waiting until after this election ends, you'll really want to pay close attention.
Because with the election only 11 days away, I hope you'll see that behind all the negativity there could be an incredible election profit opportunity hidden in plain sight. And time is running out on taking advantage of it...
How big is this opportunity? I'll let you check out these two charts and make your own decision.
Here's the first: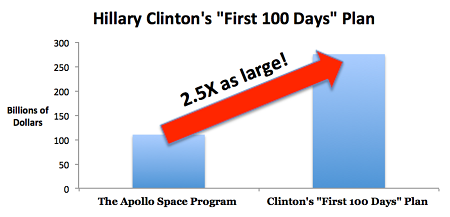 Apollo space program spend has been adjusted for inflation to 2010 dollars.
Impressive, right? A plan that's potentially 2.5X larger than the Apollo space program!
Well, feast your eyes on this second chart with Donald Trump's competing plan.
Apollo space program spend has been adjusted for inflation to 2010 dollars.
Trump's program is even bigger... It would be at least 5x larger than the Apollo space program!
But, here's what's truly the most amazing part of these two charts...
I don't need to tell you that there's almost nothing that Hillary Clinton and Donald Trump can agree on.
That's what makes investing in front of this election so difficult. The difference between these two candidates is so off the charts. Putting a "bet" down on a company that benefits from one candidate... Potentially gets crushed if they lose the election.
Yet, the charts above both describe what's been called "the one issue Hillary Clinton and Donald Trump agree on."
Which is incredible, it's a moon-landing sized project that has the potential to pour hundreds of billions of dollars into the coffers of a select group of companies... And the only thing Hillary Clinton and Donald Trump are arguing about is who is going to pay these companies more!
So while politics have never been something I have much taste for... Our job at the Motley Fool is knowing a potential profit opportunity when we see one.
And Clinton and Trump's plans make
November 8th
look like it could be an early Christmas morning for in the know investors.
So, here are the details on how you can get a piece of the action.
We've created a
brand-new
report that's being offered for the first time ever today. It's from our
Stock Advisor
team and is titled, "
November 8th
Profit Playbook: 11 Stocks for Trump
OR
Clinton."
Every single one of these 11 stocks is an active "buy" recommendation from our Stock Advisor service. Which, as you may know, has seen its average recommendation return an incredible 197% (more than tripling the market over that time!).
That means we'd already vetted these stocks before Trump or Hillary generously offered to shower them with billions of dollars worth of spending...
In addition this special report has commentary on how our team is thinking about investing across the next four years and details the incredible strategy The Motley Fool used to recommend a remarkable 7 out of the 10 best performing stocks since Obama took office!
(And how we hope to repeat that performance during the next four years...)
But again, I must note - I can't say for certain we'll ever offer this report again... And with the election little more than a week away, you'll want to act fast. With this report you'll get Stock Advisor for more than 70% off.
Hillary Clinton's plan calls for passing this spending in her
first 100 days
in office, and Trump's plan is even more ambitious. So if you want to get in before timid investors come running back after
November 8th
, then I urge you to get started now!
To you wealth,
Eric Bleeker
The Motley Fool